The Advertiser has published a dedicated feature story about the opening of Mitolo Winery's new "vineyard diner," called Little Wolf. Led by Chef Vincenzo La Montagna, Little Wolf will highlight the chef"s interpretation and deep experience with Italian cuisine.  There is a lot to look forward to with cooking on hot coals and fire, utilizing the best local produce and ingredients – and a relaxed menu that shifts away from fine dining, which is what Mitolo had previously offered. "Fine dining is great – and we did a great job," says owner Frank Mitolo, "but I wanted to go back to what was true to my heart, which was more of this Italian style of food." Read more about the opening HERE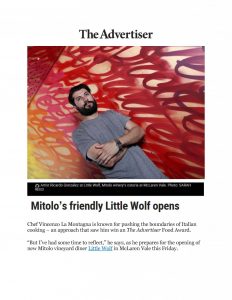 McLaren Vale, Australia

Founder Frank Mitolo drew inspiration from his Italian heritage and especially his horticultural background - he is the 4th generation of a family of agriculturists – in starting the company in 1999. In 2001 acclaimed winemaker Ben Glaetzer became a partner, and together Frank and Ben have shared an uncompromising dedication to producing wines that express purity of flavor, show elegance of structure, and maintain a rich, powerful complexity. In a short period of time, Mitolo has become recognized as one of the finest producers in McLaren Vale.