The Entertainer! Magazine has highlighted Calistoga, CA as one of the top destinations to experience this fall and notes that Chateau Montelena is a "must visit" in the region. The piece provides an overview of the volcanic land – know known for its mineral rich hot springs and vineyards. The writer notes that while many people may know of Chateau Montelena from the movie Bottleshock, "The show-stopping Chateau is even cooler than the film portrays. Draped in bright green ivy, it resembles an English Gothic castle, and its tasting room is perched on the top floor to allow for a true elevated tasting in more ways than one." You can read the full story HERE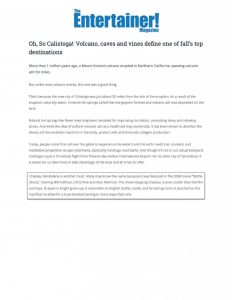 Calistoga, Napa Valley, California

In 1976 Chateau Montelena put California at the forefront of the wine world. That year a who's-who of the French wine establishment gathered in Paris for a blind tasting of French and American wines. When the scores were tallied, the top-ranking white wine was Chateau Montelena's 1973 Chardonnay. Montelena today continues to be a quality benchmark in Napa Valley, producing some of the finest Cabernet and Chardonnay in California.