Food & Wine has highlighted a new hotel package The Royal Champagne created in anticipation of the season premiere of Netflix's popular series, The Crown. The story, "French Hotel Launches 'The Crown'-Inspired Package That Lets You Live Like Royalty," provides details on what visitors to Champagne could experience by booking this unique package, including "Queen-approved" Champagne from Bollinger. The Royal Treatment packages includes several special touches that begin upon arrival, where "guests will find a chilled bottle of Bollinger Champagne waiting for them—a royal-approved brand that Queen Victoria gave a warrant to in 1884—and they'll also get to enjoy a private tasting of three of Bollinger's cuvees curated by the hotel's chef sommelier, Daniel Pires." Read more about the hotel package HERE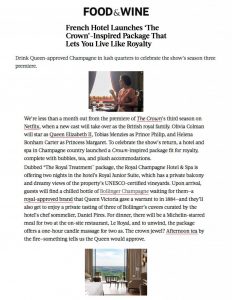 Champagne Bollinger

Champagne, France

From vineyard to bottling, Special Cuvée sees such an extraordinary level of care and attention, it is difficult to place within the non-vintage or, really, any Champagne category. It is a Champagne that stands apart. Within one bottle, all the complexity of flavor, texture and pleasure that Champagne can offer. Special Cuvée is truly a journey of devotion from Bollinger.
Champagne, France

Bollinger is one of the rare Grande Marques that's still family owned. Known for its rich, elegant and polished style of Champagne, their outstanding wines are the result of rigorous attention to detail and incredibly labor-intensive practices that few houses are willing to undertake. Underscoring its excellence, Bollinger has remained British secret agent James Bond's Champagne of choice since 1973.