Inside Hook featured Champagne Bollinger in its weekly roundup of the 10 best things that they've heard about or seen all week. The Bollinger 007 Limited Edition, 2011 Vintage was selected as the only highlighted wine or spirit this week. The writer notes "forget the martini – James Bond loves his 'Bolly'" and offers brief insight on the history between Bollinger and Bond. The piece further elaborates on the wine, explaining that "The fruit of this tie-in Champagne was sourced from a single grand cru vineyard, the first time Bollinger's created a cuvée solely from this cru. It's then vinified in oak barrels, aged 7 years under cork and bottled in this exquisite gift box, featuring the names of all the previous Bond films." Read the full review HERE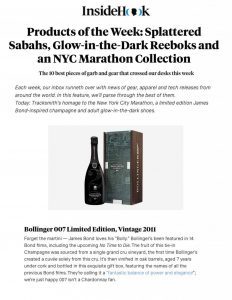 Champagne Bollinger

Champagne, France

This limited edition cuvée celebrates 2 important milestones. Firstly, it celebrates the historic partnership between Bollinger and Bond. Bollinger has been the exclusive Champagne partner of Bond since 1979, so 2019 marks the 40th anniversary of their relationship. Secondly, it celebrates the release of the upcoming movie, No Time to Die, which will be the 25th movie in the series (and Bollinger's 15th Bond movie since the start of the partnership).
Champagne, France

Bollinger is one of the rare Grande Marques that's still family owned. Known for its rich, elegant and polished style of Champagne, their outstanding wines are the result of rigorous attention to detail and incredibly labor-intensive practices that few houses are willing to undertake. Underscoring its excellence, Bollinger has remained British secret agent James Bond's Champagne of choice since 1973.