The South Florida Reporter highlighted Chateau Montelena in a story titled, "Wine Lovers' Here's Why You Should Be Drinking Chardonnay." The article covers Chardonnay and compares wines that use Malolactic Fermentation and those that do not, highlighting Chateau Montelena as a winery that does not. The writers interviewed Winemaker Matt Crafton for the piece and included quotes within the story. Crafton notes that using ML (malolactic fermentation) is "not a color we need to paint with here." The story explains while many wineries utilize ML to soften acidity and add dimension, that Chateau Montelena depends on the fruit's natural ripeness to add texture to their well-respected chardonnay. Crafton adds, "We let our vineyards and the unique character of the vintage drive how we make our wines…Over the past 40 years we've honed in on sites that are well suited for non-ML chardonnay."  The story recommends the winery's 2016 Napa Valley Chardonnay as a top wine, noting its remarkable ageability and how its "stark minerality and balanced acidity" make it a superb food pairing wine.  Read the full piece HERE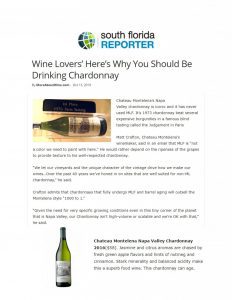 Chateau Montelena

Napa Valley, California

A true icon. The Napa Valley Chardonnay is the wine that put Chateau Montelena and Napa Valley at the forefront of the wine world in 1976, in what is now memorialized as "The Judgment of Paris." To great disbelief, the Chateau Montelena Napa Valley Chardonnay was the top-ranking wine against four white Burgundies and five other California Chardonnays. And as they say, the rest is history.
Calistoga, Napa Valley, California

In 1976 Chateau Montelena put California at the forefront of the wine world. That year a who's-who of the French wine establishment gathered in Paris for a blind tasting of French and American wines. When the scores were tallied, the top-ranking white wine was Chateau Montelena's 1973 Chardonnay. Montelena today continues to be a quality benchmark in Napa Valley, producing some of the finest Cabernet and Chardonnay in California.