The holiday season always pops up earlier than expected, which means last minute gifting becomes a reality. Hollywood Life knows this all too well and published "20 Bottles, Wines & Accessories That Are Perfect for Last-Minute Holiday Gifts" to help shoppers in a time crunch. Wine is a category that we know always comes in handy, but the trick is selecting the right option that feels "gift-worthy." For this reason, the writer has included Champagne Bollinger Special Cuvée as an impressive bottle to gift, adding that the wine "has a rich, Pinot Noir-forward profile and is the result of delicate blending between harvest grapes and a majority of reserve wines, including some aged in magnums for more than 15 years in Bollinger's cellars." You can read the whole list of recommendations here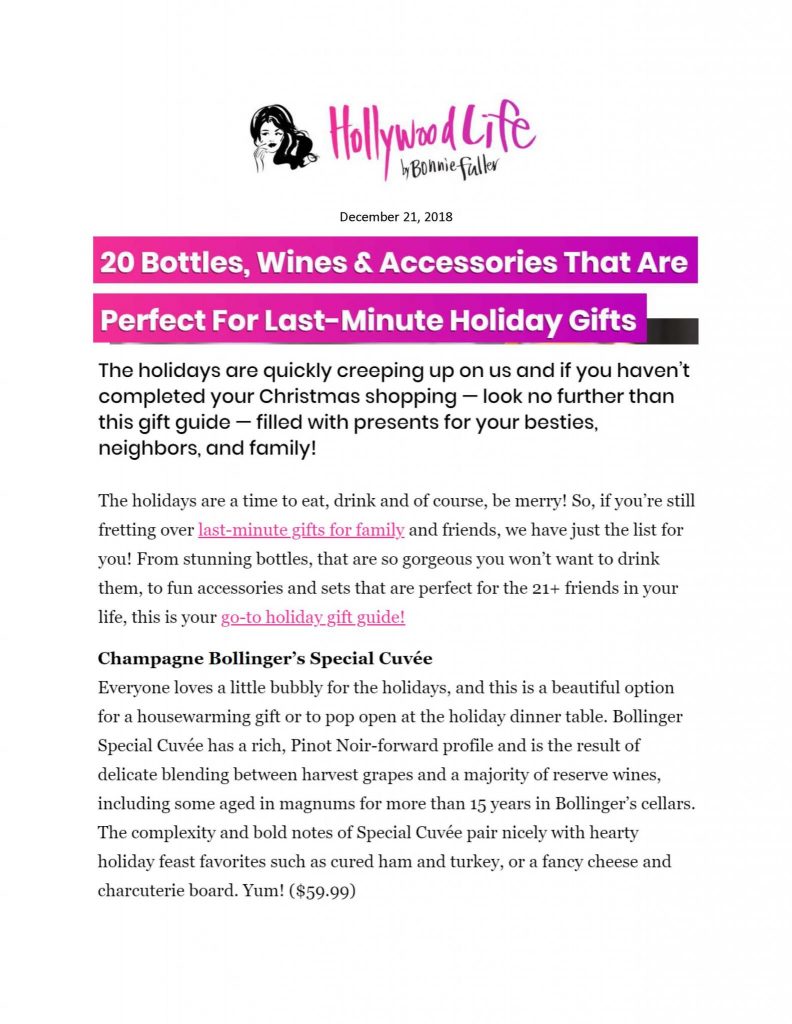 Champagne Bollinger

Champagne, France

From vineyard to bottling, Special Cuvée sees such an extraordinary level of care and attention, it is difficult to place within the non-vintage or, really, any Champagne category. It is a Champagne that stands apart.  Within one bottle, all the complexity of flavor, texture and pleasure that Champagne can offer.  Special Cuvée is a journey of devotion from Bollinger.  
Champagne, France

Bollinger is one of the rare Grande Marques that's still family owned. Known for its rich, elegant and polished style of Champagne, their outstanding wines are the result of rigorous attention to detail and incredibly labor-intensive practices that few houses are willing to undertake. Underscoring its excellence, Bollinger has remained British secret agent James Bond's Champagne of choice since 1973.