Wine writer Courtney Schiessl's latest column for Forbes encourages readers to look beyond the Champagne offerings they see most widely on retail shelves in favor of other Houses – from grower champagnes and family-owned houses to single vineyard producers. The story,"Rethink Big-Brand Champagne With These Top Champagne House," includes Champagne Bollinger as a top recommendation. She explains, "The Bollinger house has been a family enterprise since its founding in 1829, with family members remaining on the management team today. These successive generations have established Bollinger as a top-class Champagne house, producing full-flavored, Pinot Noir-dominant Champagnes that are typically fermented in oak. Their cuvée La Grande Année is one of the most recognizable prestige cuvées in the region, and Bollinger is also known as a pioneer of late-disgorged Champagne with their lauded R.D. ("recently disgorged") cuvée." Read the full story here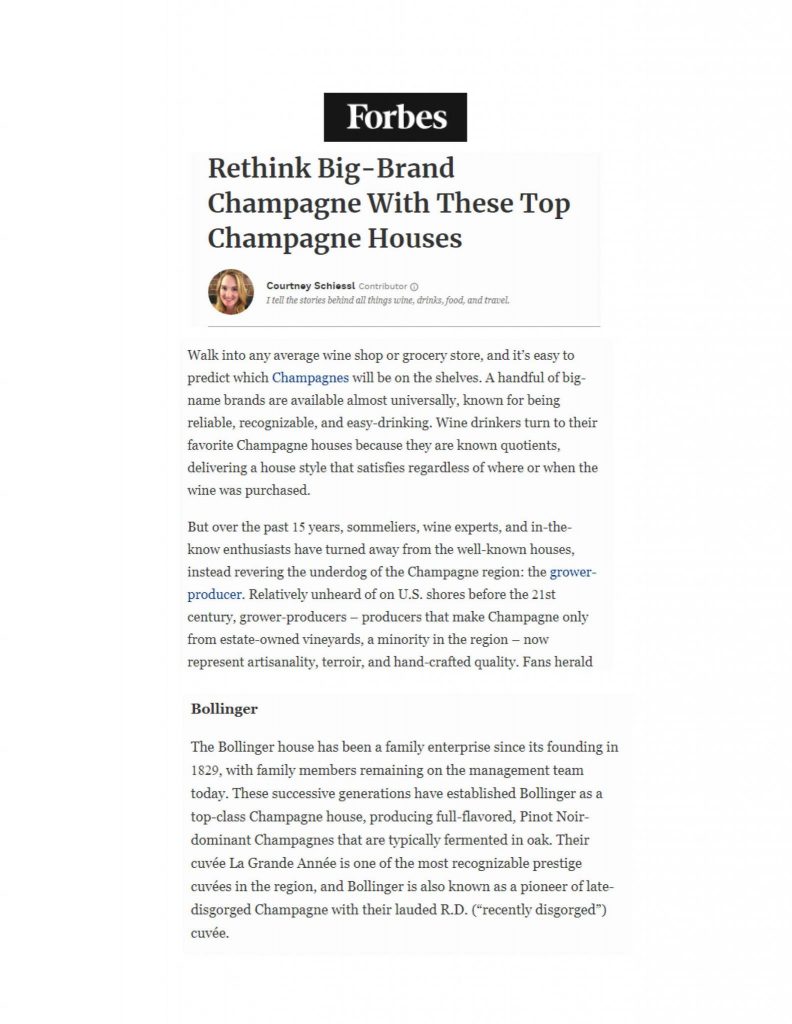 Champagne Bollinger

Champagne, France

A small revolution in the world of Champagne. In 1967, Bollinger releases R.D. 1952.  There is no comparable Champagne on the market at the time. This bold and brilliant Champagne takes the pillars of what makes Champagne Bollinger so unique, and pushes them to their ultimate level. It is, very simply, a masterpiece. 

Champagne Bollinger

La Grande Année: The Great Year. This Champagne is the embodiment of everything that makes Bollinger the producer that stands apart in Champagne. La Grande Année, or LGA, preserves the traditions of the past and symbolizes the word "hand-crafted" so strongly that an overused word suddenly becomes the only appropriate definition. 
Champagne, France

Bollinger is one of the rare Grande Marques that's still family owned. Known for its rich, elegant and polished style of Champagne, their outstanding wines are the result of rigorous attention to detail and incredibly labor-intensive practices that few houses are willing to undertake. Underscoring its excellence, Bollinger has remained British secret agent James Bond's Champagne of choice since 1973.