Leading regional lifestyle magazine, Arizona Foothills, has unveiled its annual foodie gift guide for the holiday season. Included among the culinary gems is the Ponzi Vineyards Classico Pinot Noir 2015. Writer Melissa Larsen urges readers to "bring this beautiful new-release bottle to your holiday hostess. It is accented by season-friendly crushed Mediterranean herbs of lavender, sage, rosemary and black tea." Read more from her gift guide here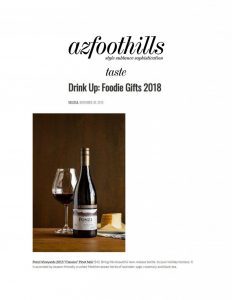 Ponzi Vineyards

Willamette Valley

The "classic" representation of Willamette Valley Pinot Noir, this wine encapsulates the experience, innovation, top vineyard sources, and expertise of the pioneering Ponzi family. Among the first to make Pinot Noir in Oregon and the United States and, since the start, among the very best. 
Chehalem Mountain AVA, Willamette Valley, Oregon

Dick and Nancy Ponzi helped put Oregon on the map in the United States and the world. The mantle has been picked up by daughters Maria and Luisa Ponzi, who continue the family history of leadership and innovation in the region and, in the case of Pinot Noir, across the country.