In its annual feature on champagnes, Wine & Spirits Magazine has offered accolades and scores to several top producers in the region. No one more so than Champagne Bollinger! In fact, Bollinger R.D. 2004 has just been crowned the #1 Champagne of the Year, with 98 points! R.D. is known for having the freshness and youth of a much younger wine, balanced by the complexity of its age. The magazine elaborates on this, adding "Time has graced this wine, proving the value of Bollinger's policy of long aging on the lees followed by prompt release after disgorgement. This RD (Recently Disgorged) 2004 is a joyous wine, staunch, cold and powerful at first, transforming to fresh fruit shadowed by darker tones of barrel fermentation." In addition to R.D., Wine & Spirits delivers strong scores to La Grande Annee 2007, 95 Points, and La Grande Annee Rose 2007, 93 Points.
See the full write up below: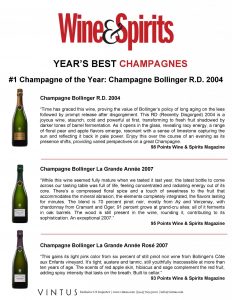 Champagne Bollinger

Champagne, France

A small revolution in the world of Champagne. In 1967, Bollinger releases R.D. 1952.  There is no comparable Champagne on the market at the time. This bold and brilliant Champagne takes the pillars of what makes Champagne Bollinger so unique, and pushes them to their ultimate level. It is, very simply, a masterpiece. 

Champagne Bollinger

La Grande Année: The Great Year. This Champagne is the embodiment of everything that makes Bollinger the producer that stands apart in Champagne. La Grande Année, or LGA, preserves the traditions of the past and symbolizes the word "hand-crafted" so strongly that an overused word suddenly becomes the only appropriate definition. 

Champagne Bollinger

Champagne, France

Lily Bollinger agreed to a Bollinger rosé under one condition, it had to be extraordinary, and that is how La Grande Année Rosé was born. A blend like no other, the wine is as an extension to the House's prestige cuvée, La Grande Année, as is the subtle marriage between this great vintage Champagne and the addition of red wine from a unique plot, the legendary Côte aux Enfants.
Champagne, France

Bollinger is one of the rare Grande Marques that's still family owned. Known for its rich, elegant and polished style of Champagne, their outstanding wines are the result of rigorous attention to detail and incredibly labor-intensive practices that few houses are willing to undertake. Underscoring its excellence, Bollinger has remained British secret agent James Bond's Champagne of choice since 1973.